Service Department Pick-Up, Delivery and Home Options near Miami, FL

  Mercedes-Benz OnSite Mobile - At Home Service Center
If your Mercedes-Benz vehicle is due for a service appointment, we are here to help! Here at Mercedes-Benz of Coral Gables, we are offering OnSite Mobile. This service allows us to service your vehicle right in your driveway. This visit is no contact to keep you safe.
If your vehicle requires more service than what we can do with what our mobile service van provides, we will service your vehicle in our body shop. We will pick up your car and drop it off after the service is complete at no extra cost. Both of these options allow you to continue to social distance and stay safe while maintaining your vehicle.
No matter which service your vehicle ends up needing, we will disinfect the interior. This will kill 99.9 percent of microbes and bacteria to help keep you safe.
Both the OnSite Mobile service and the pick-up and delivery service are both available for the zip codes that we serve. To schedule your service, call us at 786-284-1114, email us, or fill out the form on this page.
Stay Safe and Healthy with Remote Service from Mercedes-Benz of Coral Gables
Our OnSite Mobile and pick-up/delivery options are part of our solution for keeping our customers and staff safe during this difficult time. We are following all current recommendations from the CDC, and advice from the Mercedes-Benz network, to keep our dealership and interactions as safe and sanitary as possible. Our goal is to reduce any unnecessary contact and continue to take preventative measures to keep our staff and customers healthy.
The team at the dealership is continuing to do our best to maintain impeccable sanitation, but we also recommend that customers stay home if possible. Even though we can't shake your hand, we will still have a warm and welcoming smile on our face, even if it's hidden behind a mask.
We'd like to thank our dedicated clients for your business, understanding, and trust in our team here at Mercedes-Benz of Coral Gables.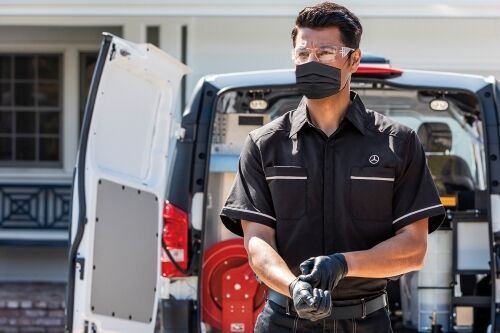 Make an Inquiry