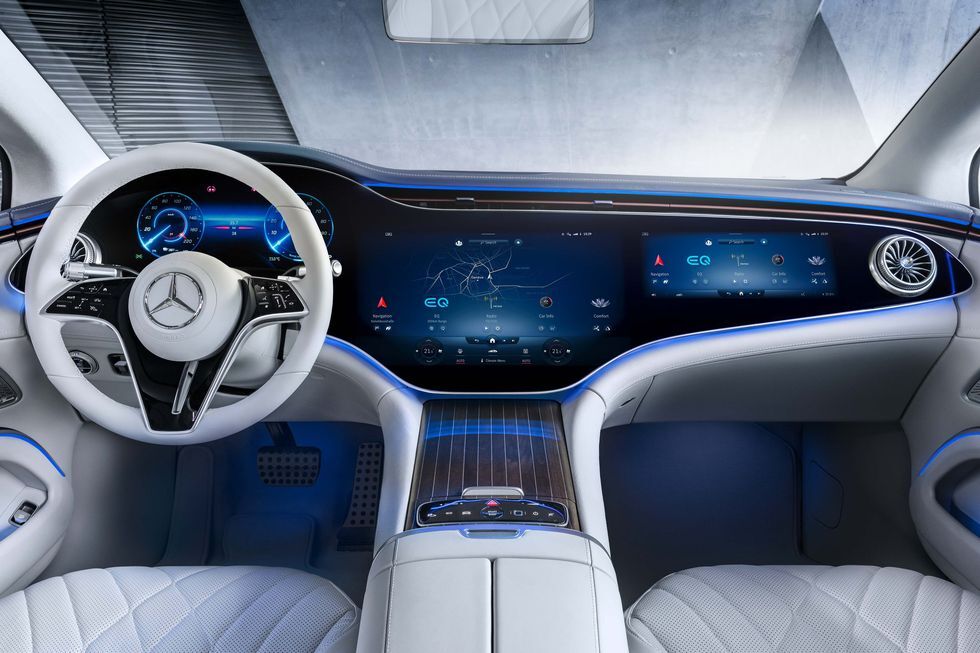 Experience the Future of All-Electric Luxury with the New 2022 Mercedes-Benz EQS Sedan and 2023 Mercedes-Benz EQS SUV
If you are looking to experience the future of automobiles wrapped in equating luxury and comfort, then the all-new, all-electric 2023 Mercedes-Benz EQS SUV or 2022 Mercedes-Benz EQS sedan may be the vehicle for you near Doral. These vehicles deliver advanced performance and technology to make big and small journeys a relaxing affair. From the moment you set inside, you feel as though you have been transported to the future.
We welcome you to learn more about each of these new all-electric luxury vehicles. We'll share details about each vehicle's performance, as well as look at their design, technology, and safety.
Advanced Safety Technology
To keep you and your passenger's safe while on the road near Coral Gables, the new 2023 Mercedes-Benz EQS SUV features a full suite of safety features. The standard features include Adaptive Cruise Control with Forward-Collision Warning with automated emergency braking. Other standard safety technologies include Active Lane Keeping and Blind Spot Assist. Each feature helps keep you safe from hazards.
The 2022 Mercedes-Benz EQS sedan also features a full array of safety technologies that keep you connected to the road. The long list of standard safety features includes Active Steering Assist, Car to X Communication, Active Brake Assist, and Forward Collision Warning. The Mercedes-Benz EQS can alert you in real-time to possible hazards with the Car to X Communication.
Breathtaking Technology and Design
The 2023 Mercedes-Benz EGQ SUV offers the next generation MBUX multimedia system with augmented reality navigation. The multimedia and navigation systems are housed in the optional 56-inch MBX hyperscreen that fuses three displays into one, delivering a look that's straight out of a sci-fi film. Pinecrest drivers can utilize the hyper screen to access their favorite media and apps through Apple CarPlay and Android Auto integration.
Further, you can listen to your favorite music with the Dolby Atmos sound systems that deliver 360 degrees of pure sound. Moreover, you can set the mood for the drive with 64-color ambient lighting.
With the 2022 Mercedes-Benz EQS sedan, the 56-inch MBX hyperscreen greets Coconut Grove drivers from the moment they enter the cabin. You can access the almost limitless connectivity features with your finger or your voice. Through the hyperscreen, you can access your favorite music apps, including Amazin Music, Spotify, and Apple Music.
You can also bathe the interior cabin with up to 64 color combinations of LED ambient lighting. Plus, available HEPS filtration pre-purifies the cabin air and infuses aromatherapy for a relaxing experience.
Performance and Sustainability
Pincrest drivers can zoom down in a 2023 Mercedes-Benz EQS with an available output of 536 horsepower. To ensure optimized handling and response, the Mercedes-Benz EQS SUV offers an Airmatic air suspension with an adaptive damping system and up to 10 degrees of rear-axle steering. Moreover, you can customize your driving experience with Dynamic Select-control. With charging, you can charge up the battery to full in just over 11 hours.
With the 2022 Mercedes-Benz EQS sedan, the power is delivered through two available electric motors developing up to 516 horsepower and 631 pound-feet of torque, taking from zero to 60 miles per hour in just over four seconds. Additionally, the Airmatic air suspension adapts the car to the road to enhance handling and control. For charging and efficiency, you can travel up to 350 miles between charges. Using the 240-volt wall charger box, you can recharge the car to full in just over 11 hours.
Contact Mercedes-Benz of Coral Gables Today Learn More
We welcome to contact our team today if you like to schedule a time to browse our new inventory of 2023 Mercedes-Benz EQS sedan models. The 2023 Mercedes-Benz EQS SUV is coming soon to our dealership. We are proud to serve shoppers in the Brickell area. Drive into the future in an all-new 2023 Mercedes-Benz EQS.
Mercedes-EQ EQS Specifications and Features: 
107.8 kWh battery capacity

11.25 hours (10 - 100%) charging time, AC Charging (240V)
31 minutes (10 - 100%) charging time, DC fast charging (200kW)
329 hp and 406 lb-ft of torque (EQS 450+) and 516 hp and 611 lb-ft of torque (EQS 580 4MATIC®)
New-generation MBUX Multimedia System with Augmented Reality Navigation system, including Natural Language Understanding and Keyword Activation ("Hey Mercedes")
EQS 580: Optional MBUX Hyperscreen with three displays under a single 56-inch curved glass surface. 
12.3" Instrument Cluster, 17.7" Central OLED Touchscreen Display and 12.3" Passenger Display
EQS 450+: 12.8" Central OLED Touchscreen Portrait Display
Fingerprint Sensor for biometric authentication of the driver to activate profile
Active Ambient Lighting with 64 Colors, including a new EQ-Specific Color Scheme
Front/Rear Automatic Doors with smart power open/close
DIGITAL LIGHT with Lightband
Burmester® 3D Sound System with Sound Personalization
Mercedes me charge capability
Panorama Sunroof
20" Wheels
Learn more about charging your Mercedes-EQ at home:
We are excited to announce that the Mercedes-EQ EQS is now available in our showroom! Enjoy these two videos. Please call us at (786) 284-1236 if you would like to schedule your personal test drive. Or, fill in the form below to be one of the first in line.